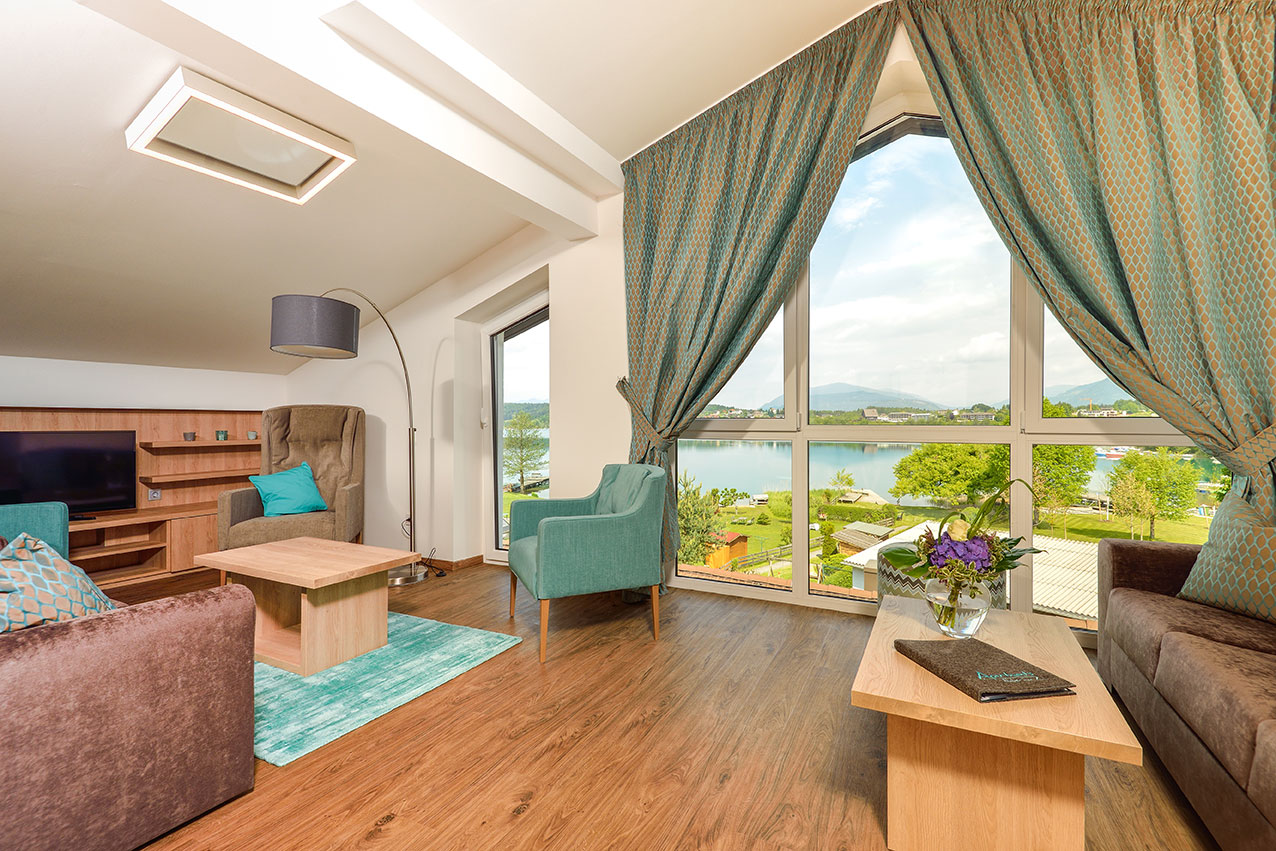 Equipment details at a glance
The furnishing of your holiday flat is crucial for a relaxing holiday and ensures comfort with all the extras. Whether you are looking for an active holiday, a short trip over the weekend or simply want to relax with the family, our flats offer everything you need for the perfect holiday.
The flats on Lake Faak have state-of-the-art facilities and a stylish ambience. Furthermore, we attach great importance to impeccable hygiene. Our guests can expect a fully equipped kitchenette, high-speed internet and their own bathing beach with sunbeds and parasols.
GENERAL EQUIPMENT
LiftOur accommodation is equipped with a modern lift that takes you comfortably to the upper floors.
WiFiOf course, high-speed internet is included in your stay. Streaming movies, checking emails or enquiring about sights in the surrounding area is easily possible with our Wifi.
Bathing beachThe flats are located directly on Lake Faak with their own beach. In addition, our guests can use the available sunbeds and parasols free of charge. This makes your bathing holiday a very special experience.
INCLUDED IN THE BATHROOM
Soap dispenser: Refilled soap dispensers are available for our guests in each of our bathrooms. These protect you and your family from viruses and bacteria.
Vanity kitFor small emergencies, we have provided a vanity kit for you in your flat.
HairdryerEspecially on holiday, a hairdryer should not be missing in the flat. You will find it on a practical holder in the bathroom.
Coffee makerFragrant lovers will get their money's worth in our flats. For all caffeine junkies, there is a coffee machine in the kitchen. Accordingly, you don't have to do without your daily caffeine kick.
TeaBut also tea lovers will not miss out in the "Apart of me Faaker See". In the kitchen you will find a kettle and an exquisite selection of teas to enjoy.
Salt & pepper shaker: A well-stocked kitchen definitely needs salt and pepper. To ensure that the food you prepare yourself tastes good, we have provided both for you in your flat.
Baking paperParticularly practical is the baking paper, which is available in the kitchen of your flat for free use.
Kitchen roll: It's hard to imagine any kitchen without the classic kitchen roll. It can be used to clean up small messes quickly and easily. Of course, all our flats are equipped with this useful little helper.
Contactless check-in and check-out
Easy arrival and departure: Arrivals and departures at any time - our key system from the flats makes it possible. After consulting the reception, you can leave your key in a safe so that you can arrive and check in at any time. This simplifies your travel planning and minimises unnecessary time pressure.
: Are you looking for a fully equipped flat directly on Lake Faak with modern furnishings? Then you have come to the right place. Check in now!