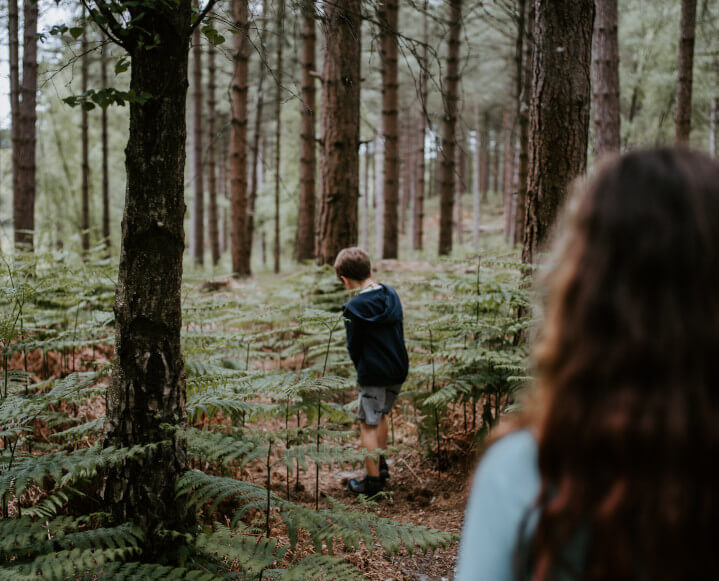 The coolest sporting activities on Lake Faak
Lake Faak and its surroundings are not only known for the extensive water sports opportunities, but are also a suitable holiday destination for triathletes, hikers, mountaineers or cyclists. In the surrounding area you will find hiking and climbing routes with every degree of difficulty as well as a well-developed network of cycle paths for hobby bikers, racing cyclists and mountain bikers. Runners also get their money's worth on the beautiful forest and circular trails.
The perfect base camp for your sports holiday are our flats at Lake Faak. They not only offer enough space and storage for all sports equipment, but also score points with a modern ambience and an full equipment. In addition, the flat house is centrally located and has its own bathing beach. So you can cool off in the crystal clear lake after a strenuous sports session.
Hiking and climbing at Lake Faak
Our guests at "Apart of me Faaker See" are spoilt for choice when it comes to hiking and climbing. Climbing enthusiasts can choose from more than 300 routes in different difficulty levels in the climbing garden on Kanzianiberg. Not to forget the breathtaking view over Lake Faak. You can find all the routes here: Route plan  
Mountain enthusiasts can visit the 2,145 m high Mittagskogel or climb its brother, the Ferlacher Spitze, which is 1,742 m high. The nearby Schwarzkogel (1,842 m) and the Dobratsch (2,167 m) also offer a beautiful panorama. The Gerlitzen (1,909 m) scores again with a hiking experience for young and old and is particularly well suited for family excursions.
Lake Faak is an Eldorado for all hobby cyclists, racing cyclists and mountain bikers. In just a few kilometres you can reach the famous Drau cycle path, which leads you either to Italy or Slovenia. Each stage can be completed by families as well as professional cyclists. A nice alternative is the Gailradweg, which takes you all the way to Kötschach or the neighbouring town of Villach. Equally popular is the medium-difficulty road bike route to Italy and Slovenia.
Breaking down a trail on a mountain bike is just your thing? Then you will like the "Kopein Trail" with a length of 1.8 km. This single trail leads through an idyllic forest and ends with some jumps and waves. Professionals will certainly enjoy the 1.6 km long "Samonigg Trail". This trail is located at the foot of the Karawanken and offers not only fast-paced fun but also a beautiful view of Lake Faak. If you haven't had enough yet, you can include the "Shorty Trail" with its 0.7 km in the two trails mentioned above.
Running & Nordic Walking at Lake Faak
The area around Lake Faak offers varied terrain for all joggers, runners and Nordic walkers. You can choose between flat courses, hilly and steep routes or running paths through dense forests. The route profiles are characterised by different degrees of difficulty and lengths. Many of them offer a great view of the surrounding mountains and the crystal-clear lake.
The approx. 10 km long circular trail around Lake Faak offers a suitable introduction to running pleasure for every runner and Nordic walker. Different conditions such as gravel, forest floor and asphalt make the running route, which is also suitable for beginners, varied. Those who prefer a more challenging run can cover the 5 km long running route up the Taborhöhe with an ascent of 120 metres in altitude and are rewarded at the end with a beautiful view over Lake Faak. If running alone is not enough, we recommend the "NaturAktivPark Faaker See" fitness trail. Here you will find a total of 20 stations along the running route where you can put your fitness to the test.