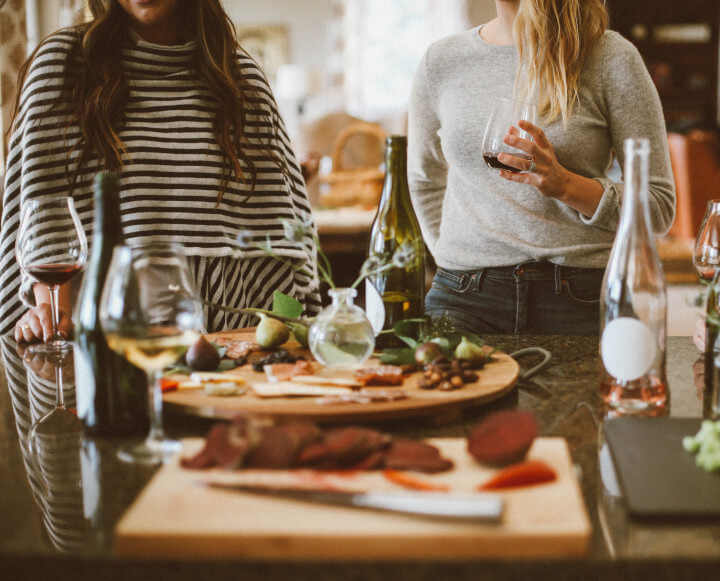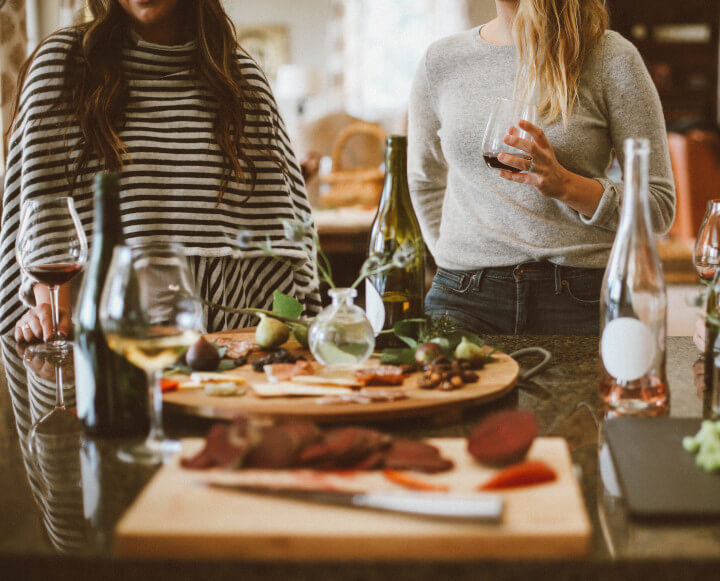 Gastronomy on Lake Faak with lake view
The region around Lake Faak has a lot to offer in terms of gastronomy. The diverse offerings range from chic beach bars to the famous Faak farmers' market and international cuisine. Enjoy the view over the turquoise water from a trendy café, try regional delicacies at the market stalls or feast on a delicious menu in one of the traditional inns. The gastronomy at Lake Faak has something to offer for every taste.
The start of your culinary journey is your modern flat on Lake Faak. From our aparthotel you can easily reach the beach bars and restaurants. If you prefer to wield the wooden spoon yourself, you will find a fully equipped kitchen in the flats. You can buy the ingredients for your own gourmet menu in the nearby supermarket.
Culinary delights on Lake Faak
You enjoy cooking together with your family and love the independence of self-catering on holiday? No problem, because our kitchen offers everything you need for cooking. From cooking utensils to various electrical appliances, everything is available. Delicious luggage can be found in the surrounding bakeries, organic products and regional delicacies at the farmers' market and high-quality meat is available from the farmers in the area.
Those who prefer to be served are spoilt for choice at Lake Faak. The palette ranges from traditional country inns to international restaurants and exclusive steakhouses. There is certainly something for every age group and every taste. For tips on gastronomy, please ask our staff.
Local gastronomy at Lake Faak
The inns around Lake Faak have a seemingly endless selection of Carinthian dishes. Opt for a juicy Wiener Schnitzel, a portion of Carinthian Kasnudeln or a grilled fish fresh from the local waters. No matter which choice you make, you will experience culinary flights of fancy, guaranteed.
The offer is rounded off by a variety of delicious local drinks. Enjoy a freshly tapped beer with your main course and treat yourself to a fine home-distilled drop to round off a perfect meal. Our tip: Visit a Carinthian Buschenschank in the area and refresh yourself with a delicious cider or a sweet apple juice pressed from local apples. 
Due to the excellent geographical location of Lake Faak, you will pass the Italian or Slovenian border in a short driving time. Immerse yourself in the very special flair of our neighbouring countries and sample the numerous traditional dishes. From succulent Italian prosciutto to a hearty Slovenian Krainer sausage, you can find just about anything your gourmet heart desires.
The Faaker Bauernmarkt is a meeting place for all those who love the folk festival character. Here you can stroll, eat and shop to your heart's content. From the beginning of May until the end of September, the market takes place every Thursday at the market railing in the village of Faak am See. In addition to agricultural products, you can also buy handmade art. Enjoy time with your loved ones with a delicious glass of local beer and a hearty bacon sandwich surrounded by a boisterous atmosphere.